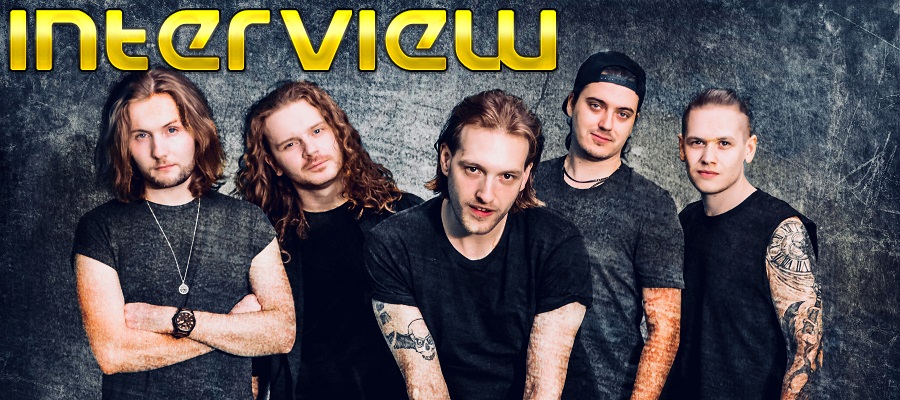 Earlier this week we sat down with Scott Taylor, the frontman from Glasgow based band Mason Hill. We discussed the recent success of their debut album, Against the Wall, the thought process behind funding the album through Kickstarter and of course the upcoming tour that starts in September.
However, before getting into the reason you clicked this article, we'd like to take a second to publicly thank Scott for taking the time out of his schedule to talk to us. We wish the band all the success in the world and I'm sure we'll see them down the road.
*****
First of all, how are you doing?
I am great. I'm having the best year of my life but I'm keeping quiet about because the world is a bit messed up. I'm just keeping on working but I'm doing well, thank you. You?
I've been working at home for over a year and I'm antisocial so I'm as happy as can be… The Against the Wall dropped at the beginning of March, and safe to say it's done quite well. Are you guys quite happy with how things have gone so far?
Yeah, I'm so happy that I don't even believe at the minute. It's been six weeks now and honestly, I can't believe how well it done. I'll never forget it and I'll never be able to thank everyone who bought the album enough. People just got on board, this sort of people power campaign and it exceeded not only ours, but our management and our whole team's expectations.
One thing I'm sure you'll have noticed is a lot of artists have pushed their albums to the summer and a lot released just before Christmas, but Mason Hill released in this sweet spot at the start of March. I assume that was on purpose rather than just a happy accident?
Yeah, that was intentional. That was intentional on what sales looked like over the years and trying to maximise our chances of getting as high up in the charts so that was a kind of strategic choice there but then of course what helped us is that rock has had a good year. Bring Me the Horizon claimed another Number 1, even more recently Architects claimed a Number 1. I think we got a bit of luck and just sandwiched ourselves in there.
I think it's all helped with the fact that this has been a seven-year campaign in the waiting and a lot of silent Mason Hill fans have found us again. Again, we can't thank everyone enough for it. We've been truly blessed. I mean, it's been a hard seven years but we've not crashed and burned.
I remember you guys poking about in 2015 or so and, I know to some you may seem like an overnight success, but for you guys it has been a lot of years of hard, hard work.
Yeah, we didn't understand the business we were going into, you know? We just wrote songs and that cost us dearly going down one route and needing to leave that route. Then, we had to do crowd funding and people don't realise that when we released this crowd fund that was it, it was make or break. We hate crowd funds, we never wanted to do it. We were completely skint, we had no money and about to ditch the whole thing after like four years.
Then someone, I think it was Craig's Dad, Gary, said to put our ego to one side and do the crowd fund and give it one last chance. People had been waiting a long time for it and it'd be a shame to have that materialise into nothing, and thank god he pushed us and people came out for the crowd funding and here we are.
I mean, it was a bit delayed from when we said the crowd fund would be but Covid just came in and wiped that whole plan. We thought were just going to wait it out and after the second lockdown came in, we realised it wasn't going anywhere so we'd just go for this online campaign and see how it went.
Going that direction must've allowed for a little more freedom in the end?
Yeah, totally. I mean, we're so picky with our own stuff those sort of relationships will never work for us. We're too picky with the music and thankfully, the management that came on who were really interested in pushing us, we were all on the same page. We've always been that way with freedom so we don't know what it's like to be taken away yet.
Give it time, I'm sure it'll happen someday… When did you actually record the album?
It was December 2019 to March 2020. The band recorded in Riverside in Glasgow and we got all that done but we recorded the vocals in Manhattan in March. So I left just as Covid was all kicking off and came back to this locked down country where I couldn't get a Gregg's or anything.
You may not remember but we actually met in 2015 at Wildfire Festival, you came over to the tent when I was doing RockFusion back in the day and stole our food and beer.
I actually do remember that!
There was a buzz about Mason Hill even back then but now six years later, you release Against the Wall and it does incredibly well. In that time, a lot of other bands would have fallen flat. What kept you guys going? What it just a case of being stubborn and not giving up?
Yeah, we've always had that stubbornness. It's the only thing we can do in our lives that makes us happy. There's always been mystery behind Mason Hill. There's something mysterious about that band who have never brought anything out except that 4-track EP back in the day and who knows, that may have been an attraction? The only place you could really see us was at a live show.
From my perspective, I think that internet buzz and word of mouth has really helped you guys out and helped keep you guys going as well, especially over the last year when nobody has really known what to do with themselves. Do you think a lot of people have discovered Mason Hill throughout lockdown?
Mason Hill have seen more fans in the last year than we have in the last seven years. A lot of things have lined up, people are looking at more music because they're bored in their house with nothing else to do. I've done it myself and found new artists.
I think the big question on everyone's minds is how are you all feeling about getting back out on the road in September?
We cannot wait! I keep touching wood every day that I don't wake up and see some headline that we're going back into lockdown but we cannot wait. We can't wait. We'll be taking on our biggest tour to date. At one point I'll be doing seven shows in seven nights. We're doing like 24 days.
So, the tour starts on Sept. 2nd right through to the 26th then more dates have been added in October. That almost never happens. It's a massive tour.
Due to popular demand! We're taking on the small places and the big places. It's an effective strategy right back to The Beatles. That's what they done. You play everywhere you can, that's how you meet people and that's how you get new fans.
Anything else you want to say before we wrap up?
Just, you know, go check out the band. We hope you like it. We're so humbled to be here and having this year and we're just going to take it as far as it goes and thank you for having me.
No worries. Thanks for taking the time and I'll see you in September at The Garage.
That'll be amazing. If they let everyone in, it's going to be sold out. I cannot wait!
by Edward Laing
Related Articles