With schools in Scotland already beginning to break up for the summer holidays, we've decided to take a look back at some of those forgotten family films that we grew up with that have more or less been forgotten for one reason or another. Film franchises like Star Wars, Harry Potter and the Marvel Cinematic Universe as well as other offerings from Disney / Pixar and any one of a number of Spielberg classics seem to be consistently dominating TV these days so we want present some alternative choices for anyone looking to sit down with the family for a film over the next few weeks and beyond.
Rest assured we wholeheartedly recommend every film listed here even if maybe they haven't aged well for one reason or another. This list is in no particular order and is based solely on my personal preference of the films I watched when I was growing up so if you think I missed something, be sure to leave a comment below.
We've listed the film title and year of release to make them easier to hunt down if you any of them take your fancy and each entry is listed with a simplistically stupid description to wet your appetite.
01. Short Circuit (1986) – A military robot comes alive after being struck my lightning and learns the to dance to the Bee Gees.
02. Casper (1995) – Casper makes a friend that his demonic uncles immediately try to kill.
03. Suburban Commando (1991) – Hulk Hogan stars as an intergalactic superhero who lands on Earth after his ship is damaged by However, The Undertaker in hot pursuit. Definitely one for WWE fans.
04. George of the Jungle (1997) – Quite simply one of the funniest films I ever watched as a child and fun for all the family.
05. Free Willy (1993) – A heart warming tale about a young boy who befriends a killer whale being held in captivity before eventually getting the bright idea to set him free.
06. Turner & Hooch (1989) – The film has Tom Hanks in it. The film has a dog in it. What more do you need?
07. Twister (1996) – Did you know cows could fly? Well, they can if they get caught in a tornado.
08. Loch Ness (1996) – An American comes to Scotland to try and ruin the tourism industry but instead he ends up falling in love Joely Richardson's terrible attempt at a Scottish accent.

09. The River Wild (1994) – Kevin Bacon kidnaps Meryl Streep and the kid from Jurassic Park and they all et really, really wet in a little boat.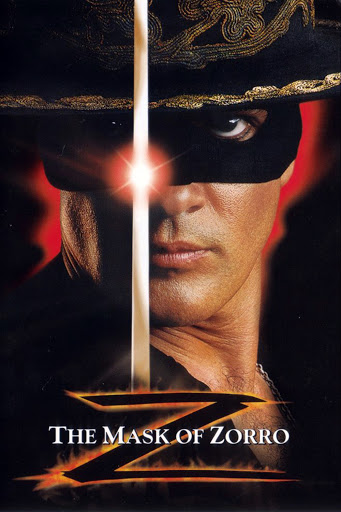 10. National Treasure (2004) – Before Nicholas Cage seemingly lost his mind, he made this little gem in which he stars as a treasure hunter who'd have us believe America has something worth stealing.
11. The Mask of Zorro (1998) – Antonio Banderas stars as Puss In Boots here for the very first time and in live action. Hannibal Lecter also drops by for a chat between meals.

12. The Phantom (1996) – Imagine Black Panther wore bright purple spandex and pretended he was Batman in the 1930's.

13. The Mighty Ducks (1992) – Quack!
14. A Knight's Tale (2001) – Heath Ledger breaks down social barriers in this medieval tale of love, jousting and cracking music.
15. Masters of the Universe (1987) – He-Man and Monica from Friends team up to save the universe from a bad guy who is having way too much fun.
16. Honey, I Shrunk the Kids (1989) – A group of teenagers are accidentally shrunk down to the size of an insect due to an experiential gone wrong and need to navigate the dangers of the back garden in what is surely has to be a serious case of child abuse.

17. Ladyhawke (1985) – Ladyhawke sees fierce knight Navarre recruit the help of a young pickpocket and thief in order to protect the woman he loves when he cannot. Just, please watch it. The less you know about this one the better really.
18. Dante's Peak (1997) – James Bond vs. Volcano.

19. The Mask (1994) – Jim Carey at his 90's best as he finds a mask in the river that turns him into a green headed superhero with the powers of Loki (not the Marvel, the real one).

20. Reign of Fire (2002) – Batman fights dragons with the help of King Leonidas and Matthew McConaughey. Alright, alright, alright.

21. Hook (1991) – Robin Williams is on top form as Peter Pan as he fights to save his children from an unrecognisable Dustin Hoffman.

22. Harry & the Hendersons (1987) – The Predator disguises himself as Bigfoot and has himself a nice summer holiday before Hercule Poirot shows up to try and murder him.

23. The Pacifier (2005) – Vin Diesel does his best Mr. Nanny impression as a tough as nails Navy SEAL who needs to deal with the biggest threat the world has ever faced… Children.

24. Homeward Bound: The Incredible Journey (1993) – Non-CGI animals go on an adventure to find their way home after being left behind when their inconsiderate humans go on vacation without them.

25. The Three Musketeers (1993) – All for one and one for all, catch your pants before Charlie Sheen discovered tiger blood in this Disney adaption of the classic tale from Alexandre Dumas.
by Edward Laing